Choir Leader, Singer, Vocal Coach, Accompanist
Based on the Suffolk/Essex border 
Sing&Go!: Singing for fun. No pressure, just a good sing! Well-known songs, sung from wordsheets. Weekly sessions in Stoke by Nayland, or stand-alone workshops - either for existing singing groups, or groups of people who just want to try something different! 
Colchester Sing to Beat Parkinsons: a fortnightly singing group for people with Parkinson's in the Colchester area.
Solo Singer: Available for weddings, funerals, concerts and special events.  I sing classical favourites, folk songs, hymns, show songs - whatever is most suitable for the occasion. More information here.  
Teaching/Vocal Coach: I teach singing, piano and general musicianship for all ages. More information here.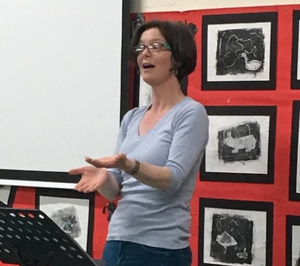 Schools: There are many ways I can help increase singing in your school by:
 Working with teachers directly together with pupils.
PD workshops for teachers to build confidence and give song ideas 
Prepare classes or choirs for special occasions
Lead or accompany choirs on a regular basis 
Contact me for more information.
 Accompanying I am an experienced repetiteur (choir accompanist) and exam accompanist and am available for regular or one-off bookings for: 
ABRSM/Trinity grade exams and aural tests to grade VIII
GCSE music performances
Choir rehearsals
Playing for weddings, funerals and other events.
Choirs: In addition to the groups I run myself, I also direct two choirs - Nayland Choir and Vocal Zones, and a singing group for peeople who are visually impaired - the Unscene Singers.
Outside music, I spent many years working in public health, and have an MSc in research for public policy and practice. I now undertake project work, particuarly independent evaluations in healthcare. Contact me for more details of my experience or go to https://www.linkedin.com/in/emma-bishton/
Necessary things: I am a member of the ISM, have public liability insurance and a full (portable) DBS.
And a piano keyboard that I can bring with me! 
Find me on YouTube
Why Sing? Well it's fun (or it should be)!